Appartment information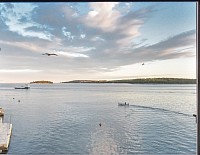 For the most enjoyable stay in Rovinj you need to live in the old town which is the car free half island. This is the most charming and attractive part of Rovinj. You will enjoy it day and night and wake up to the sound of the sea and the birds.
Obviously our apartment is situated in the old town on Vladimra Švalba street Nr.19. It is very easy to find,
here is a link for you
on google maps or just copy and paste it into your Browser:
https://goo.gl/maps/bSYhsJH5RRB2
The apartment with ca 80m2 is rather generous for Rovinj old town standards, usually apartments here are very dark and cramped with steep narrow stairs . you will enjoy a Large master bedroom, large guest room, living room/kitchen with a bed-sofa 90x210. Beautiful large luxury Bathroom with bathtub, glass shower room and double basins and toilet. Small extra toilet by the hallway.
This apartment is very comfortable for 4 Pers. but with possibility to sleep an extra person in the beautiful living room/ kitchen.
The kitchen is small but has a high standard with a 4 burner stove, fridge and dishwasher all new in 2017, there is also a toaster and electric kettle. The kitchen is mostly used for making breakfast, all other meals you should enjoy in this beautiful town.
The 180 degree Seaview is absolutely spectacular and the building is actually standing in or on top of the sea which you can see in the Photos. We are situated on the third floor. On the ground floor right on the water there is a small romantic Italian cafe/bar. Below us you will meet Senad and his family they sell wonderful local ecological cheese oil and truffel specialitys and even other wonderful organic products.
We are certain you will Enjoy this charming place!
Parking info
Unfortunately parking is a problem in car free Rovinj. However there is payed parking available close to the apartment but who doesn't like to park for free?
We have the following suggestion: park at the parking as near as possible to the apartment. Empty your luggage if neccesary organize a Small Piaggio truck offered by the town of Rovinj to take your luggage home and then repark the car at the indicated free parking spots!
Payed parking City of Rovinj.
Park here to unpack, order a Piaggio or borrow a trolley or even a 3 wheeled bike to transport your luggage to the apartment. As you can see on the map the apartment is very close to the parking!